In 1981, Robert Wilson answered the voice of the Lord and was baptized in Jesus' name, received the baptism of the Holy Ghost by the evidence of speaking in tongues; as the Spirit of the Lord gave utterance (Acts 2:4). He became a strong witness for the Lord Jesus Christ and advocate for Holiness. He was a faithful servant to the Lord under the leadership of Pastor Snead at Greater Ecclesia. He taught Sunday School and served on the Deacon Board. Faithful to the brotherhood, he did whatever his hands could find to do. In his service to the community, he volunteered with the Red Cross and a Juvenile Justice program. In 1991, after being ordained at our International Convention as an Elder, he accepted his call to become a Pastor and founded Christ First Church. Under his leadership, many souls were baptized in the name of Jesus and received the Holy Ghost. Pastor Wilson did not compromise or water down the gospel of Jesus! He instructed his flock to obey the word of God and "Be ye Holy for God is Holy. (I Peter 1:16) He ministered on the radio and had a video and tape ministry to spread the preached word of God. To further his knowledge as a shepherd, he attended the W.L. Bonner Bible College in Columbia, SC. He completed many courses including "The Power of Positive Thinking" with Bishop William L. Bonner. As a Pastor, he not only reached out to the lost, but he showed his support to his fellow brothers in Christ, through fellowship with his congregation. He humbly accepted his appointment as District Elder under the leadership of Bishop R. H. Dunlap and as Executive Secretary to the Northern Diocese.
Christ First Church was established in October of 1991. Being a prayerful and dedicated vessel, Elder Robert Wilson was prompted by God to start holding services in an office building. He was compelled to find a permanent place for worship. He was led to a store front building that needed extensive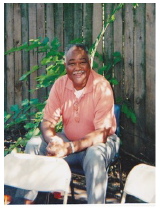 work before we could occupy it. Pastor Wilson, once remarked "this building was representative of our unsaved soul - in need of renovation." He was a humble servant who stood his watch. He warned the people and admonished them to serve the Lord and live holy. He proudly stood his watch until that appointed time. (Ezekiel 33:6-7)
In 2011, Elder Wayne McQueen, honored District Elder Wilson's memory because of the love he showed through fellowship with others. He presented to members of his church "The Fruit of the Spirit" award. This was the subject of the last series of lessons taught to the members by District Elder Wilson. He taught this lesson with passion and emphasis on the first fruit of the spirit - love. He often spoke of how we must love one another and demonstrated that love through fellowship with our brothers and sisters in the Lord. In 2012, Elder McQueen again honored Elder Wilson's memory with the "Medal of Courage" Award.

Brief Personal History
Robert "Bobby" Wilson the eldest of eight; was born to the late Regina and David Wilson, Jr. on June 22, 1951 in Gadsden, AL. He flourished as a young boy in school and sports. At the age of 17, he moved to Detroit, MI with his grandmother to seek greater opportunities. He attended the Job Corp in Indiana and earned his GED. He won a scholarship using his baseball and academic talents, and attended Iowa College. Recognized for his batting average of .400 and being a switch-hitter, he tried out with the Detroit Tigers. In 1973 he wed the love of his life, Carla J. Day. He took Fatherhood very seriously and was present at the birth of their two children. He was an active father and involved in their development. He worked for Ford Motor Company for several years and later Bobby worked and retired from S.M.A.R.T. Transportation, May 1, 2010 after 30 years as a bus driver, and received "Safe" Driver Award for numerous years. After his retirement he continued to enjoy his hobbies and interest in various sports, shopping for bargains, going to auctions and taking walks by the Detroit River front.
I must give honor and praise to our Lord and Savior for blessing me and my family this year with the comfort that only He can give. As I continue my journey, I remember my husband of 38 years and honor his memory. We merged our dreams, became one, raised two successful children, and worked together in the ministry until he was called home to be with the Lord (April 29, 2011).
Indeed, my family and I do give thanks to God for all of the Christ First members, to everyone that made contributions (monetary and physical) toward the renovation of our church.